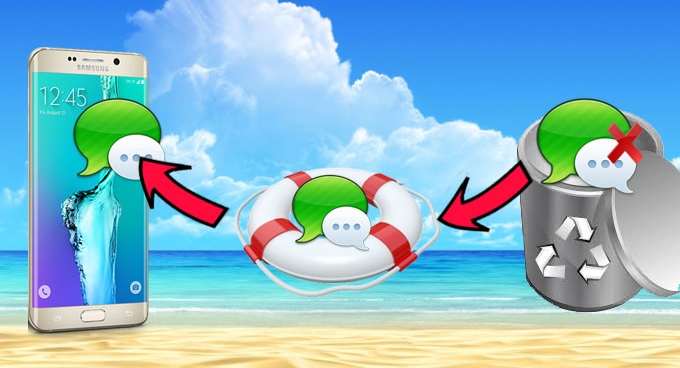 Almost everyone have their mobile phone nowadays. It's already part of people's day to day life. With the release of several smartphones, users can not just text and call but surf the web, chat, play games and more. Samsung is one of the most popular brands when it comes to mobile devices. The Samsung Galaxy S series phones are widely used in all parts of the world. But what if you accidentally deleted a text message on your mobile, which you really need? Can you still recover deleted SMS from Samsung phone?
You might be in panic mode if this happens to you. But don't stress yourself because there are various ways on how to recover the important messages that were deleted. That's right, you can use a recovery program for this concern and there are several that you can choose from including iCare Data Recovery and Data Recovery for Android.
It is a powerful Samsung text message recovery program that you can use. You can download the free trial to personally try if it really works before deciding to spend money in purchasing the full version. It can be used to recover lost data like SMS on Android devices such as Samsung, LG, ZTE and Sony.
It has an organized and easy to understand user interface making it convenient to use. Launch the application and you will be walked through on the steps on how to have your phone detected by the data recovery software. Once your device is detected, it will scan your phone and show the data found divided into categories including messages, contacts, gallery and videos. Click on "Messaging" to check on your SMS. Select the messages that you wish to restore and click the "Recover" button.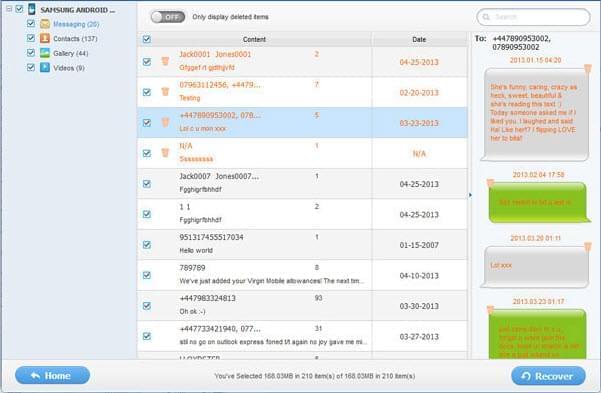 This is a freeware Samsung SMS recovery application, which you can download and install on your computer. It also works on other Android devices. This program can recover SMS and other data loss due to various reasons such as accidental deletion, corruption, reformatting and virus infection. When you launch the program, you have four options for the recovery including lost partition recovery, advance files recovery, deep scan recovery and format recovery.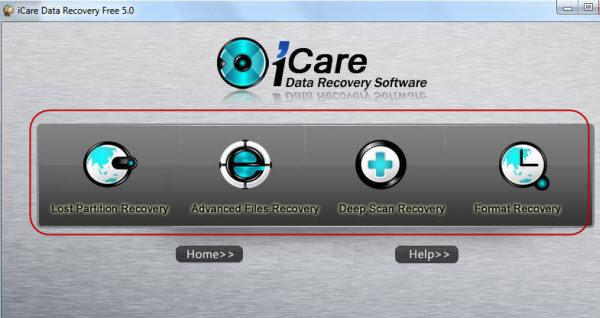 However, this may not be effective if the information loss is caused by physical damage. Also the free version is only limited to restoring up to 2GB of data. While it could recover some files, some users experience that some of their data are still missing. Recovery could also be slow.
Data Recovery for Android and iCare Data Recovery can both be used to retrieve deleted text messages on Samsung Galaxy, as well as other lost data on various Android devices. While you can get iCare Data Recovery for free, the data that you can recover is only limited to 2GB. Plus, it may not recover all the missing files. Data Recovery for Android on the other hand comes with a cost, though the free trial can be downloaded. It is more powerful as it can effectively recover almost all your missing data. The amount of files that you can recover is also unlimited.
How to Prevent Losing SMS on Your Phone
Losing SMS and other important data on your mobile phone can be inconvenient. There are ways on how to prevent this from happening.
Backup important text on your phone regularly and when you do, save it on another drive or memory.
Be extra careful when selecting options. Sometimes, you may accidentally delete something like a text even if you don't intend to because of not carefully choosing the right options.
Virus can erase data on your device. Have virus protection installed on your mobile. And to further prevent having your device infected, do not insert memory or transfer files on untrusted sources.
These simple tips can prevent data loss on your device. But in case you lost text messages on your Samsung mobile phone for some reason, you may use Samsung Galaxy SMS recovery tool to recover Samsung Galaxy SMS.
Apart from recovering sms, you may be interested in the topic of how to send SMS from PC. Click the link and get the desired way.