Published on April 13, 2015, Apowersoft Screen Recorder Pro has strengthened functionality in making real time editing and improving audio recording and fixed some bugs. In order to meet various needs of customers, such as to help people to make demonstration, it supports real time editing function during recording. This version supports more audio & video formats with remarkable improvement on recording audio. What's more, it supports uploading video to YouTube and FTP. Apowersoft Screen Recorder Pro 2.0 checks in details about the amazing new functions made for better user experience.
The following video will show you the new features and improvements in this new version.
New functions
1. Real time editing during recording
The new version has dramatically improved the function in relation to demonstration that you're able to adjust volume on the toolbar during recording and take real time editing and annotation on screen. You are able to make instantaneous editings on screen including arrows, rectangles, circles and pens making your videos more intelligible with this function.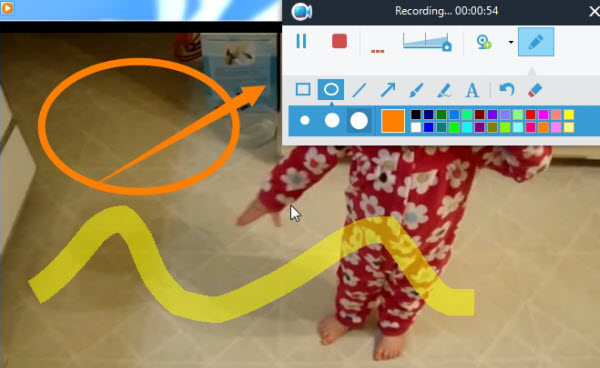 2. Screenshot and video sharing
This new version also equips with a built-in screenshot tool to assist users in having effective communication by sharing images. Along with the screenshot tool is the options for sharing to social medias and cloud storage.
In the meanwhile, the latest version of Screen Recorder Pro has enhanced the uploading function on screen recording as well. It not only simplifies the YouTube Uploader which only requires users to provide YouTube accounts, but also adds the feature of videos sharing via FTP which allows webmasters to upload videos to FTP server directly.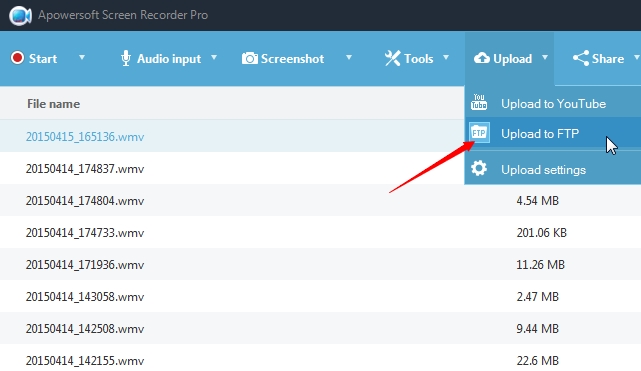 3. Audio recording technology innovated
In order to solve the problem of failing to record audio sometimes, Screen Recorder Pro 2.0 takes Windows Audio Session for audio recording, which ensures audio recorded in high quality. This change has effectively reduced the issues that may exist in those users whose computers have no Virtual Sound Card installed.
4. Various video & audio formats supports
In the previous versions, Screen Recorder Pro only supported recording WMV videos. As for the new version, it provides as many as nine output video formats (WMV, AVI, MP4, MOV, MKV, FLV, MPEG, VOB, and WEBM) for users to publish videos to different devices. Also, it has added AAC and FLAC based on the origin four formats (MP3, OGG, WMA, and WAV) it used to be.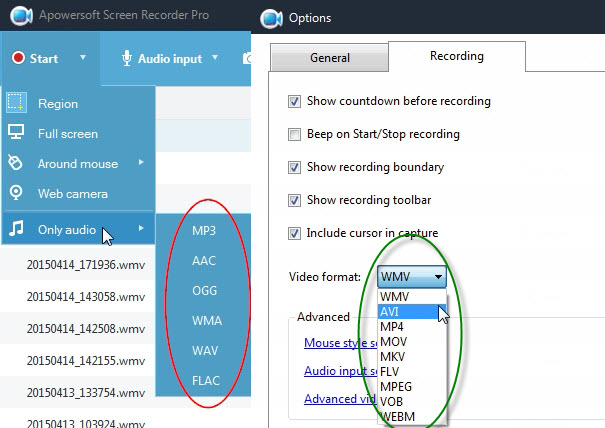 Apowersoft Screen Recorder Pro 2.0 is based on the improvement on its former versions. It has made a remarkable progress in improving general functionality which can fulfill various needs of users. Furthermore, in future development, Apowersoft Screen Recorder Pro will devote to designing high end products with advanced functions and simple operation. It would be your preferred choice.