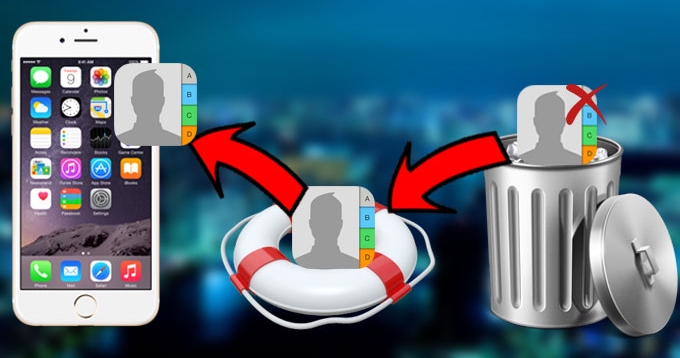 iPhone is an innovative and signature smart phone device, aside from the multiple features of modern mobile devices where you can take quality pictures, record videos, store information, play songs, connect to the internet and more, it's also the first mobile communication device second only to being a multimedia player. And thanks to its convenient contact storing app, we don't need to remember numbers and important details just to call or text our loved ones. All is saved on our iPhone's internal memory. But what if you accidentally deleted all those numbers and addresses? Is there a way to retrieve lost iPhone contacts?
This is a big nightmare to almost all iPhone users – accidental deletion of telephone numbers and contact details. This happens for many reasons like formatting your device, clicking wrong buttons, losing backup, mistakenly installing malware, unintentional erasing of numbers and all others. Yet one thing is for sure, bringing back all those contacts is indeed a real challenge.
If you accidentally erased hundreds of mobile numbers, email addresses and other valuable contact information, don't weep because you can still retrieve deleted contacts from iPhone. See these easy methods below.
Method 1: Use a trusted iPhone Data Recovery Tool to retrieve contacts
Tons of mobile applications are out on the market right now aimed to help consumers retrieve contact lists from iPhone 5s (Also for iPhone 5c, 5, 4s, 3GS) or any other mobiles. You can use these tools to recover lost contacts from your mobile phone. An outstanding software among these solutions is called the iPhone data recovery tool. It's a brilliant and effective one for saving your precious data. Here's how to use it:
Download the latest version of the program on your PC.
Choose from two different recovery methods.
A. Recover from iTunes Backup File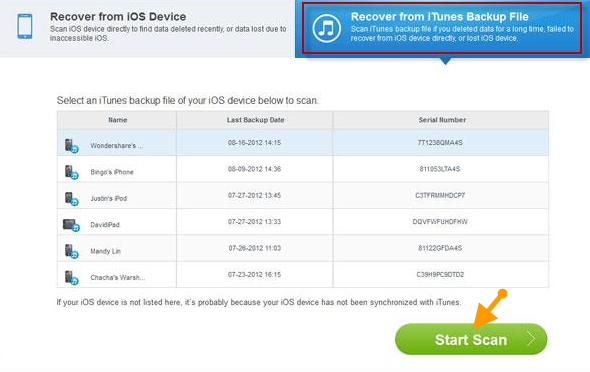 Connect your iPhone to your PC using the USB cable.
Select "Recover from iTunes Backup File" for your iPhone and click "Start Scan".
Restore your contacts by checking the contacts icon on the left pane on the window.
Hit "Recover" button. Wait a moment and then you can retrieve contacts from iTunes backup.
B. Recover from iOS Device
Connect your device to PC via USB cable.
Hit the "Start Scan" icon.
Wait until the program recognizes your device.
iPhone 4 and 3GS users should follow the on-screen scanning mode instruction. Other users can keep following the instructions below.
Choose the contacts you want to restore.
Click "Recover" to retrieve erased contacts from your iDevice.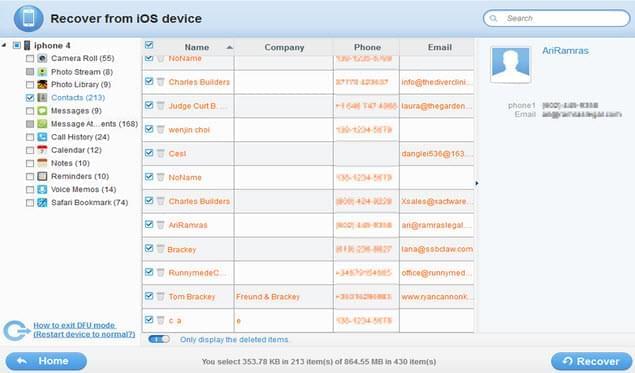 Method 2: Retrieve deleted contacts from iPhone by re-synching iCloud
With Apple's iCloud, you can still recover deleted contacts by re-synching it. Although, bear in mind that this method doesn't work 100% of the time but you can still give it a shot since it costs nothing. Below is the guided instruction on how to recover lost or deleted contacts with the help of iCloud.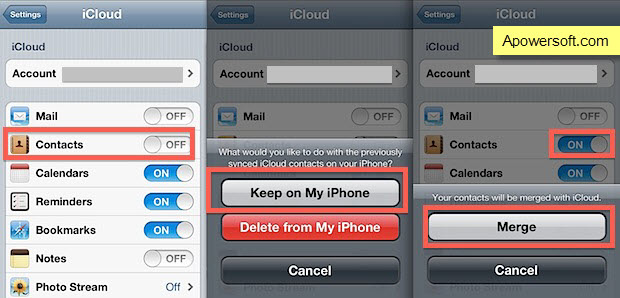 Open the setting menu of your iPhone and go to "iCloud".
Switch the contacts button to "OFF".
On the next prompt, choose "Keep on My iPhone".
Go back to the contacts button and turn it "ON".
Select "Merge" to merge existing contacts to those stored in iCloud.
Check to see if your deleted contacts have been backed up.
Method 3: How to retrieve deleted contacts on iPhone using iTunes backup
One of the benefits of often synching to iTunes is that you can retrieve lost data from the backup files. If you have synced your iPhone to iTunes before the accidental deletion of your contacts, you can use this to bring back lost numbers. Here's how to do it:
Connect your iPhone to your computer via USB cable.
Run iTunes and select "restore from backup".
Select the latest backup or date before the deletion of contacts.
Restore it accordingly.
Wait for the process to finish and it will reboot your iPhone after that.
Check if contacts are now restored.
Method 4: Retrieve lost iPhone contacts from someone else
Lucky you if you have deleted only a few contacts because you can ask your common friends to send it back with you. You can also use social networking sites such as Facebook and ask the person directly with his contact number. This method is by far the easiest and most practical one amongst all, though it will only work if you have deleted a single contact with common friends. Obviously this would not work for iPhone users who lost all contacts on their device.
How to retrieve deleted contacts on iPhone might sound so puzzling but it really happens in real life. Yet with the above methods and special recovery tools, you can still bring back all those numbers without even batting an eyelash. And to avoid future scenarios like this to happen, sync or backup your contacts from time to time.