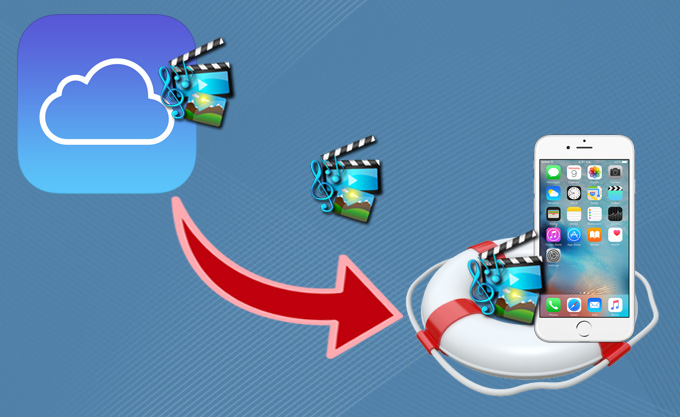 As an iPhone user, sometimes people may need to restore data from iCloud. There are different reasons why people find themselves in the need to restore iPhone from iCloud backup.
A common case refers to the iPhone 4S users who have upgraded their devices from iOS 6 to iOS 7, they may need to retrieve the apps deleted while such stuffs still exist in iCloud backup, the same for any iPhone users who have updated their iOS recently.
Your iDevices are just broken or locked, but you desperately want to restore important photos, messages, etc from iCloud backup.
Though you have ever backed up the data via iTunes, iTunes backup is corrupt, damaged or encrypted. In this case, you would be eager to know how to restore iPhone data from iCloud backup, as iCloud backup can help you get your precious data back.
You just thought that your iPhone was stolen by someone, so you deleted all the data remotely. You then thought about iCloud which seemed to be an efficient way to get things back.
However, it's also a challenge to restore files even if you have the backup. Even if people know they can retrieve data via iCloud, many of them still unsure about the exact process. How to figure it out?
Well, you may find information tips on web about how to restore iPhone from iCloud, information you get is probably just for newly acquired phones but not those in use. If you just go straight to retrieve backup from iCloud, you will get all saved data back at once, it will cost much time to sort out those you really need.
Even if you have saved a backup in iCloud, the large amount of data and apps accumulated on your iPhone cannot be returned easily without proper instructions. So follow the steps below to see how you can get the missing data back precisely.
Hassle-free ways to restore iPhone from iCloud
Way 1: Use iPhone data recovery
Get ready because there are many great ways to restore iPhone from iCloud backup. One of best ways is by using the software iPhone Data Recovery. This great software brings you back only things you actually lost but not gets you duplicate items. You would be able to recover deleted pictures, contacts, SMS, Calendars, etc. that were in your iPhone. It also helps you to recover your notes, memos, reminders, videos that were in your iTunes backup.
One of the best things about this software is how user friendly it is. You just select in the program the option to recover from your iOS device or other modes, and it will start scanning what is missing. You will get a view of those deleted files, and you will have the chance to select the items to recover. The same applies to photos, contacts, messages, apps, etc. Furthermore, the latest update covers even more comprehensive performance.
Selectively browse and retrieve data from iOS devices, iCloud backup and iTunes backup (including encrypted one)
Recover App data like WhatsApp, Instagram, Flickr, iPhoto, iMovie, Kindle, etc.
To realize how simple it is to use, follow the steps below.
Download, install and proceed to run the software on your PC. Choose the mode of "Recover from iCloud Backup File" and sign your iCloud ID and password.

After a while, all the files saved using this iCloud account will be displayed automatically. Choose the one you want to restore from and click "Download" button. When it finishes downloading, click the same button to start extracting the data.
Now you can preview all the files including photos, videos, notes, etc. Tick the items you need to retrieve and click "Recover" to restore them.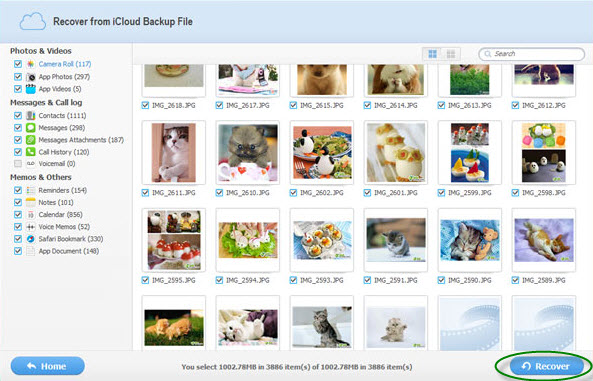 See how simple it is! In only 3 steps you are able to use this software to restore your iPhone from iCloud.
Way 2: Restore your iPhone from iCloud backup without using other software
Now, let us see another trick that can be useful to restore iPhone data from an iCloud backup directly without a third-party tool. You can also get more help from Apple Support site.
First, go to "Settings" on your iOS device, then to "General" > "Software Update".
Go to "Settings" > "iCloud" > "Storage and Backup".
Go to "Settings" > "General" > Reset and tap "Erase all content and settings".
Proceed to "Set up your device" in the Setup assistant. Tap restore from a Backup and then sign in to iCloud.
Select "Choose backup" and pick from a list of available backups in iCloud.
As you see, there are two ways in which you could work on restoring iPhone 5s from iCloud (Also include other iPhone models) or any other version that you need. Now the question is, what are the advantages and disadvantages of using one or the other? Well, now we will make a brief conclusion to compare these two solutions and see which ones works for retrieving data from iCloud more efficiently.
iCloud backup allows you to restore the entire data but deleting all the previous contents on iPhone. This may be not convenient for most iPhone users. With the iPhone Data Recovery you are able to restore iCloud backup to iPhone efficiently. How awesome is that? The truth is that, the recovery software is called by many users as the "Doctor" of iOS devices for no reason. It is a great tool with many advantages. This software not only lets you recover your data from iPhone, but also works for a variety of devices.
Feel free to try it out for yourself and stop being concerned about losing data from your iPhone or any other iOS device.