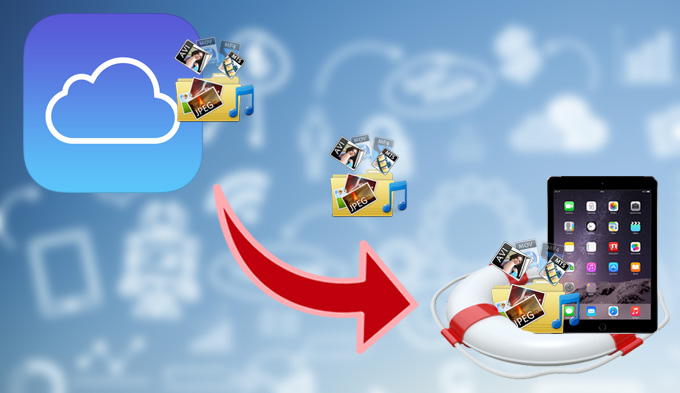 With all the latest technologies Apple has introduced its portable media gadgets to people, it is no doubt that iPad is one of the most popular and well selling tablets of all the time. You can use it to take videos, pictures, jot notes, surf the internet, watch movies, stream online, play games, listen to music, communicate with others and tons of marvelous features using this device. However, iPad is not a perfect gadget and it is still vulnerable to viruses, damages, and deletion of data.
There are many reasons of iPad data deletion. It could be an accident, sudden press on the factory reset button, due to corrupted internal memory, malwares, external damage, poor jailbreak, software update and all others. Gladly, Apple is smart enough to offer backup solutions such as the iCloud. With this web application, you can easily backup and restore iPad data from iCloud. How to do it? Read on to this article.
1. Restore iPad from iCloud backup with third-party tool
Clever enough that you can restore iPad from iCloud backup, not all the files you lost can be recovered. Additionally, times when this method isn't working can be attributed if you actually made a backup. To this end, third party recovery tools made especially for Apple gadget come very handy. One of which is the iPhone Data Recovery tagged as the world's 1st full solution to restore data from iPhone, iPod and iPad.
With the iPhone Data Recovery you can easily restore iPad from iCloud backup, iTunes backup and iOS devices. It is like having three viable restoration modes all in one software. Use it to recover your lost or deleted contacts, messages, photos, videos, notes, call history, calendars, voicemail, voice memos, reminders, bookmarks, documents, music and applications. Regardless of how you lost your data, it can be restored with iPhone Data Recovery. Additionally, it is compatible with the latest iOS7 and supports all versions of iPad.
Using it is very simple, all you need to do is:
Install and open the program on your computer.
Choose the tab "Recover from iCloud Backup File" from the recovery modes available.
Log-in using your iCloud username and password.

The iPhone Data Recovery will automatically retrieve all your iCloud back up files.
Select the most appropriate one and hit the "Download" button.
Scan the file and preview its contents.
Choose the files you want to restore and hit the "Recover" button.

Save it on your iPad and log out your iCloud account.
Restoring iPad from iCloud is really easy using the iPhone Data Recovery. It gives you much freedom and accessibility to select the exact files you want to recover. Moreover, the iPhone Data Recovery has new features like the ability to extract data from encrypted iTunes backup and applications such as WhatsApp, iMovie, iPhoto, Instagram, Flickr, Kindle, and others.
2. How to Restore an iPad from iCloud Directly
On the other hand, you can use iCloud directly to restore data on your iPad. This is so simple to do that even novice users wouldn't get lost restoring their devices.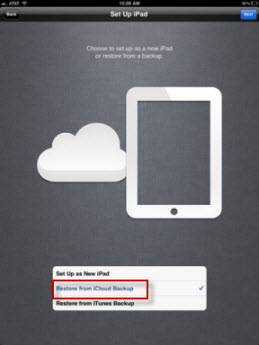 After setting up your iPad, upon prompt of the assistant, select "restore from iCloud backup"
Choose the backup file you want to restore
If your device has already been set-up, you can still restore iCloud backup to iPad by using the iOS setup assistant. However, this will delete all your current data so this is only advisable for those who had previously backed up their device. Additionally, recovering files from iCloud alone is very dependent on the previous backups made. Newer files or those that are not saved before the backup will be very impossible to restore.
You can use iCloud to back up your device once in a while either automatically or manually. It can also be done wirelessly with the help of the internet. If you still don't know how to back up your iPad using iCloud, here's how: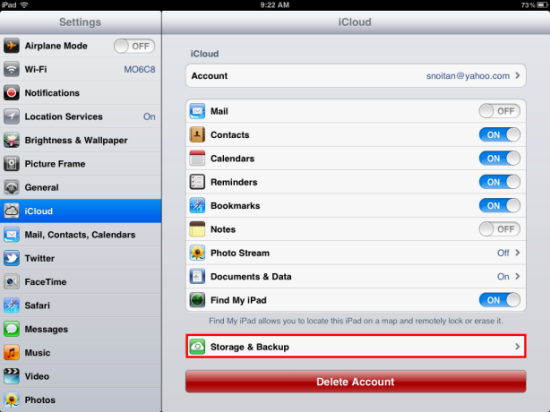 Head on to "Settings" then "iCloud" then "Storage and Backup"
Turn the button "ON" by sliding it to the right
Hit "Back up Now" to start creating backup
iCloud isn't the only thing being offered by Apple to safeguard the files on your device; you also have iTunes on the side. Though, restoring iPad from iCloud and creating back-ups with it is indeed easier than using iTunes. For your perusal, below are the advantages of iCloud backup over iTunes:
You can do it wirelessly without using any cables.
You can restore your device via Wi-Fi.
You don't need a Mac or PC to restore/backup your device.
You can create back-ups automatically.
3. Which way to choose?
How to restore an iPad from iCloud, iTunes or third party software is very easy. In fact, you have several options at hand to save your files. But you need to choose carefully which method to use because they do have their own pros and cons.