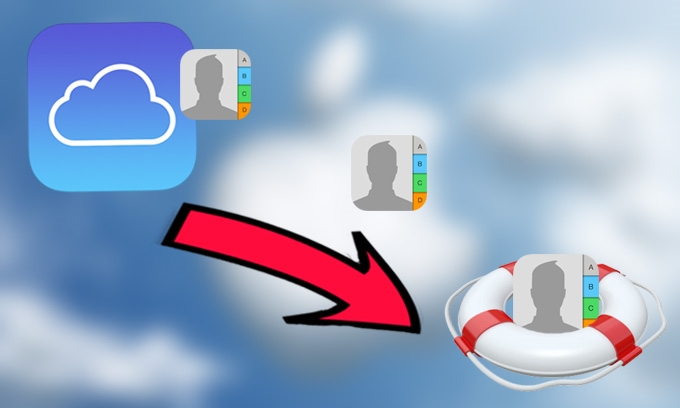 Ask
My smart phone is acting weirdly lately so I decided to restore it into factory settings. But the problem was that I forgot to copy my contacts and now all my contacts are gone, and I have difficulties distinguishing the one who is calling or sending messages to me. I heard that I could use iCloud to bring back my contacts, yet I tried, but failed. Could anyone help me restore contacts from iCloud? Any help from you is very much appreciated.
Answer
How to restore iCloud contacts is one of the major concerns of many iOS users. Some may think that it's almost possible to recover lost files from iCloud, but they don't know the specific steps. Without further ado, here are the three of the most reliable ways to do it.
Way 1: Use iCloud to get entire contacts back
This method is free of charge and it can sync all of your contacts straightly from your device via iCloud backup. Since the restoration is only to focus on contacts this process might take less time. User can now bring back all of their personal contacts within iCloud backup.
To restore contacts deleted from iCloud, here are the concrete steps:
Open your portable iOS device> Go to "Settings" > "Turn off Contacts".
A popup box will appear and select "Keep on My iPhone" > "Turn on Contacts".
Now merge your existing contacts that were within your iCloud by hitting "Merge".
Wait for a few moments and you'll notice new contacts from iCloud are on your portable device.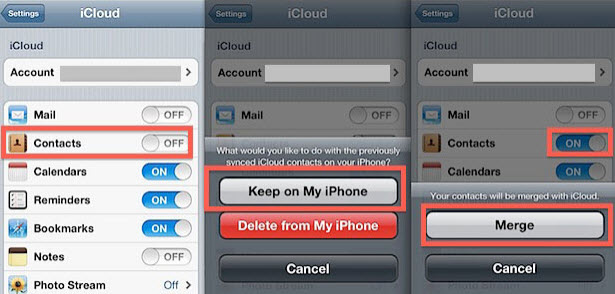 Using this way, you can't select the contacts to restore and it will overwrite all the previous ones. So we recommend you to try the second way which will help you restore contacts from iCloud efficiently.
Way 2: Use a third-party tool to restore contacts from iCloud selectively
The finest way is to use iPhone Data Recovery in restoring contacts from iCloud backup. Upon using this recovery application anyone can get back their contacts even if they are deleted, and you can preview each file before further restoration. Here are the steps for using this program.
Install iPhone Data Recovery on your computer. When it's done, open the program. Select one of the recovery options on the top right part – "Recover from iCloud Backup File" and sign in to your iCloud by keying in your Apple ID and Password.
After you successfully sign in, the tool will instantly recover your iCloud backup in your account. Now, all of the backup files that your iCloud have will be shown on the left pane. Choose one where your contacts are included, then move to the State menu opposite the file and hit "Download". Take note that this process probably will take you some time so maintain a good internet connection.

When downloading is done, you will find the status changed to "Downloaded" on the interface. If you need to get back some files in the backup precisely without restoring them all, you need to perform a scan, scanning will present the backup in categories.
Once finished with the scan, user can now preview the data that is retrieved from iCloud. From the "Messages & Call log", select "Contacts" and you can browse through all of them. There's a box beside each contact. Simply check the contacts you want to restore and click "Recover" button to save them to your computer.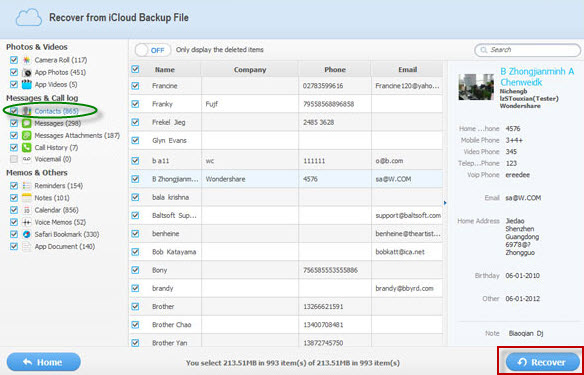 Way 3: Restore the whole data from iCloud to iDevices
The third method that we have is not that much recommended if you prefer to restore lost contacts from iCloud, (only contacts). This is because this process will restore the whole info on your iCloud to iDevices. It still helps users retrieve the whole contents from their iCloud with data like contacts, images, messages, etc. To start with this, first thing you need to do is to restore your device to its factory settings, this will also ask you to erase all the data that was in the device.
Now to restore all things back you must set your device first and select "Restore from iCloud Backup" > Sign in to your iCloud account > Choose which backup to retrieve. Wait for a moment and you're done.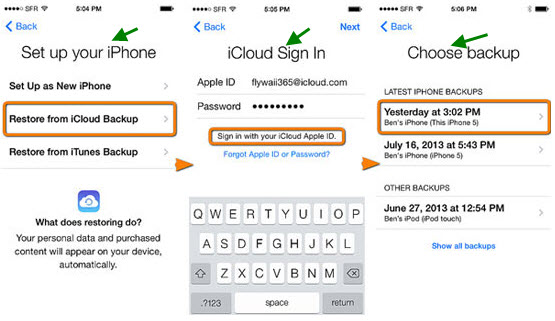 Let's do Some Comparison
If we compare the 3 methods that we discussed above, it is safe to say that the first solution is the best since you can restore and preview the contacts prior to retrieving it. The second one however, is a better way because it only works for contacts, it means less restoring time. The third solution may not be that advisable, since you need to erase all of your data first which I think is not necessary because the contacts are the only thing we are after for. All of these work and it is up to you on which one to choose.