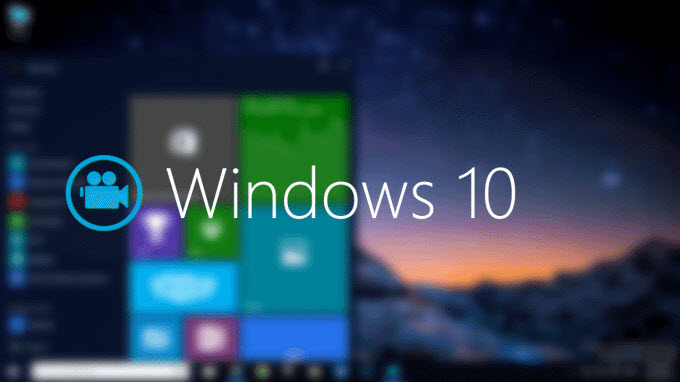 As the pioneer of PC operation system, Microsoft has devoted tremendous energy in developing Windows 10 aiming to initiate a new era of computer OS. Obviously, the fresh interface design and new functions of Windows 10 are the most appealing points that draw people's attention most. No matter you need to share the innovative experience in using Windows 10 or just record activity like working with other OS, you will need an optimal Windows 10 screen recording solution. Apart from that, reviewing video games on Windows 10 is also a crucial section for professional gamers. To know how to make screen videos with high quality, you may check the following parts.
Efficient ways to record Windows 10 screen
1. Apowersoft Screen Recorder Pro
It's a professional recording software that runs smoothly on Windows 10. This application allows you to record screen activity in various formats with wonderful quality. Also, it comes with an editor that enables you to highlight and add annotation on screen in real time. Moreover, it provides a task scheduler that allows you to plan recording task, so that the program can record your screen automatically even at your absence. You can follow the guide below to record Windows 10 screen activity.
Click the button above to download Apowersoft Screen Recorder Pro then install it on your computer.
Configure recording settings in "Options" under the menu of "Tools". (You can customize hotkeys, frame rate and desired video formats, etc).
Press the button of "Audio input" then choose an audio source you need from system sound, microphone or both.
Drop down "Record" menu on main interface then select desired recording mode. (You can record full screen or drag a certain area on desktop).
Perform anything you want to record in the recording area.
During recording, you can use the given editing options on control bar to mark the screen (If the control bar is minimized, you can press Ctrl + Alt + E to activate it).
Press "Stop" button or F10 (default) to end recording and save the video in local drive.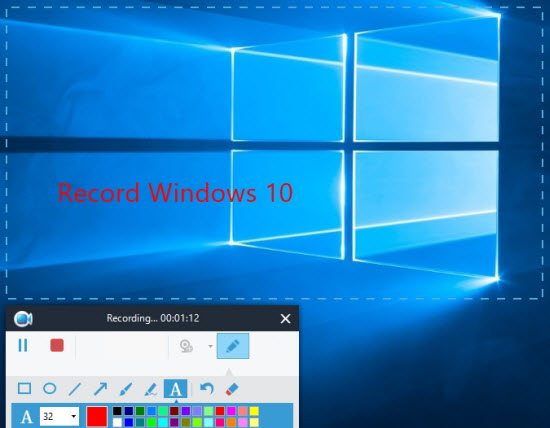 If you want to upload your video to internet, you can use the built-in video uploader to do this job. Simply right click the video in the task list then press "Upload" button, next, choose a platform that you want to upload to, YouTube or FTP server.
Besides, this program also has an online version which is called Apowersoft Free Online Screen Recorder. This web-based program allows users to launch application on webpage directly. It's very convenient to use.
2. Icecream Screen Recorder
To record screen on Windows 10, you can also consider using Icecream Screen Recorder. This tool has pretty interface, on which the buttons are nicely placed. You will learn how to go through it by having a quick glance. This application also performs great in recording screen activity without losing quality. When recording is over, the video will be saved in MKV, AVI or MP4 formats and can be found in default directory. You can check the following steps to learn how to use it.
Download and install Icecream Screen Recorder.
Launch the application then customize recording preferences in "Settings" at the bottom of the interface.
Press the button of "Capture video" then resize the recording frame on screen.
Start recording by clicking "Rec" button on the tool bar.
Click "Stop" button to finish recording and save video in your hard drive.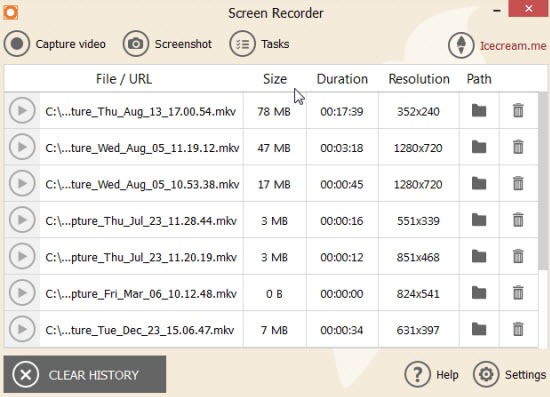 Plus, there's a screenshot tool available in this application. With this tool, you can make screenshot on your screen and do some editing jobs on the images.
Notes: The trial version of this application only allows users to record screen for no more than 10 minutes.
3. Windows 10 Xbox recorder for gameplay
Windows 10 offers a Game Bar that allows users to record Windows 10 screen. Undoubtedly, this feature is a good news for gamers. Just go through the following to learn this amazing feature.
The Xbox app has developed Game DVR for Windows 10, which contains a built-in tool called Game Bar. This tool can detect window and record it as MP4 file in your local drive. However, it's unable to record desktop but single window. Within several steps below, you can start the Windows 10 screen recording.
Launch Xbox app in menu.
Jump to another window you want to record.
Press the button of "Windows" and "G" to activate Game bar then press record icon on it.
When you want to stop recording, press "Windows" and "G" again then click stop button.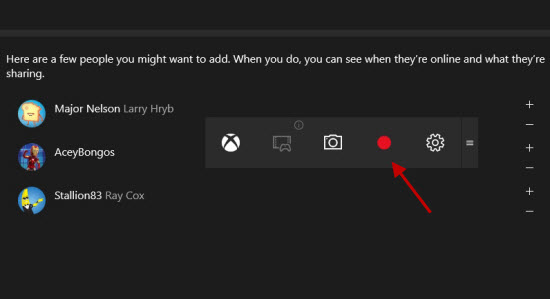 Conclusion:
All of these three methods do a perfect job in recording screen on Windows 10. However, Game Bar falls short in recording desktop and customizing recording area. When comparing with Icecream Screen Recorder, Apowersoft Screen Recorder Pro supports more functions and video formats. Therefore, it's recommended to use the first method to record screen on Windows 10.