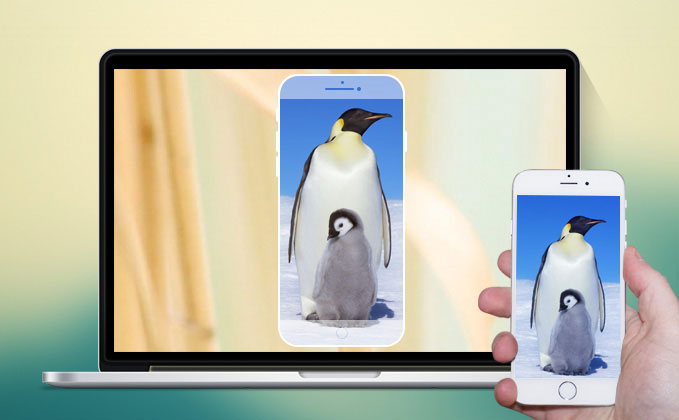 Smartphones today are getting bigger and better, better in terms of hardware specification and bigger in screen display size. As of the moment, smartphone screens can be any size from 4.7 inches up to 6 inches or even bigger depending on the manufacturer. However, some people are not comfortable working with their small size mobile screen. For them, it is still easy to explore and navigate things on bigger screens such as those on laptops.
Because of this, many fanatics are always in search for applications that can display phone screen on PC. Projecting your mobile screen directly on your computer indeed gives many advantages such as better viewing experience to clearly see details, ability to watch videos on the larger screen without transferring, comfortably talk with friends using video messengers, etc.
For sure the next question running on your mind would be "how to display my phone on my computer?" If the answer is yes, read on to this article and learn more about mobile screen projecting.
Four Ways to Display your Phone Screen on PC
Method 1: Use Apowersoft Phone Manager
For those who want to utilize a professional tool to display phone screen on computer, you could try this Apowersoft Phone Manager. It can transfer data between phone and PC, backup mobile files. It has the ability to restore contents from previous backups, take screenshots, manage multimedia contents, and many more.
Note: Aside from displaying your Android handsets, this software can also mirror iPhone to PC using the built-in iOS Recorder function. With it, you can display and record your iPhone or iPad screen on the computer along with the sound. Besides, taking screenshots is also very handy and easy.
How to display phone screen on laptop using this software:
Install Phone Manager on your PC.
Run the software. Then connect your Android phone or iOS device to PC via USB or WiFi. You can also use Android device to scan the QR code for the successful connection.
If you would connect via WiFi or QR scan, make sure to install the Android version of Phone Manager first on your device. You can scan QR code below to install Phone Manager APK file.

The big cellphone display depicted on the left pane mirrors the screen of your phone in real time.
To make it bigger or smaller, click the "Display in full screen" icon located beneath the device.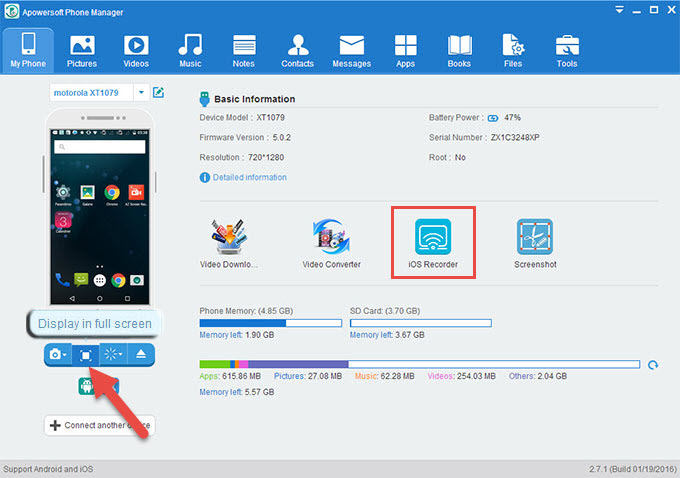 Phone Manager is an easy and practical way to display mobile screen on PC. Aside from real time screen mirroring, you could also do other stuffs such as transferring files or sending text messages by clicking the designated icons located on top of the interface.
Method 2: Employ ApowerMirror
ApowerMirror excels in displaying your phone screen on PC and provides the powerful function in controlling Android from PC with keyboard and mouse. By following several simple steps, users are allowed to play mobile games mirrored on a larger screen by using mouse. What's more, it will be a perfect choice to enjoy movies with family on PC instead of the tiny phone screen. During the process, you are able to take snapshots and record screen.
Below are the details about how to use this tool. And the first step is to install this program on your PC and launch it.
For iOS devices
You can absolutely connect your iPhone and PC via the same network as long as your device supports AirPlay. Swipe up from the bottom of the screen and open AirPlay on your phone. Then choose the device name including "Apowersoft". Soon you will find phone screen is displayed on your PC.
For Android devices
Turn on your USB debugging and plug in the cable to connect two devices. Then you will get a notification box asking for your permission to install the application on the phone. Choose "Accept." If it fails the installation, you are supposed to download it manually.
Activate the app on your phone and a window will pop out. Choose "Don't show again" and click "START NOW". Soon you will find phone screen cast on the desktop.
Note: If "Control from PC"mode is enabled, you could also connect devices via WiFi and control your phone from PC. Choose "WiFi Connection" and hit "Mirror" on your phone, then select the device name with "Apowersoft" inside.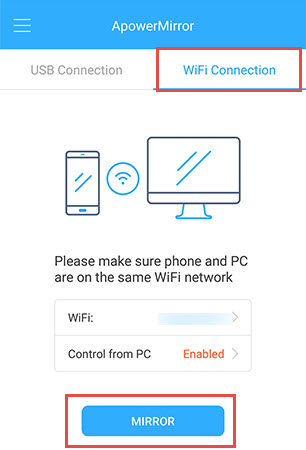 Method 3: Buy Phone Screen Projector
If you don't want to install programs on your computer or Android handset, you can opt to buy a phone screen projector. This indeed is leaned towards real hardcore users or professionals looking for a more advanced way of sharing mobile screen. These phone projectors are highly technological gadgets made especially for forensic experts as well as government agencies.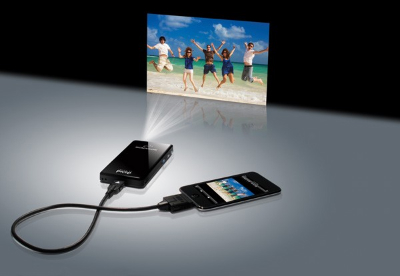 Phone screen projectors are easy to use and they can display phone screen on PC in stunning clarity with high resolution. The major drawback of this is that phone projectors don't come cheap. Prices can range from few hundreds up to thousands of dollars depending on the device quality.
Method 4: Use Android SDK and Droid@screen
Droid@screen is yet another tool that can display phone screen on computer. It is simple to use and best of all free. With this tool you don't need to have a rooted phone or pay highly priced mobile apps just to mirror your Android screen on PC. However, it requires a bit of patience and some technical know-how's.
First download and install Android SDK Tool on your PC.
Then download and install Droid@screen on your computer.
Make sure that you have the latest version of Java running on your PC but if not, install it first before proceeding with the next step.
Enable USB debugging mode on your Android phone.
Open Droid@screen on your PC.
Enter the location of adb.exe by typing in "C:\Users\Your Account Name\AppData\Local\Android\android-sdk\platform-tools\adb.exe".
Attach your Android device on your computer with USB cable to be able to display mobile screen on PC.
The main problem with Droid@screen is that you need to install two different programs on your computer before you can start using its service. Additionally, locating the Android Debug Bridge or adb.exe is somewhat complicated. It is definitely not for non-techie individuals or those with very little knowledge when it comes to file exploration. Also, it doesn't have extra features but only screen mirroring.
Bottom Line:
There are many ways on how to display phone screen on laptop. If you want the best quality and you have the money to splurge with, buying a costly phone screen projector will definitely do wonders. But for normal users and practical individuals, installing a mobile phone mirroring program is the next best thing. You can choose from Droid@screen, ApowerMirror, Phone Manager and others. However, Apowersoft Phone Manager is a professional app that transfers data between different devices mostly though it can mirror phone screen on PC. As a result, ApowerMirror is specialized in displaying phone screen on PC and enables users to control Android from PC, which offers the excellent experience.